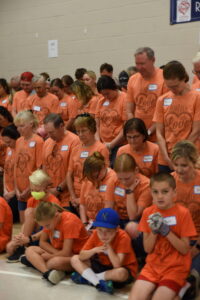 Over the last several years, a growing desire in the hearts of Christians in Norfolk has been to come together with other Believers to do something intentional and meaningful as the larger Body of Christ.

To Norfolk With Love is designed to do just that.

TNWL is an annual community-wide day of service where followers of Jesus from every denomination and creed join together to serve side-by-side to demonstrate the love of Christ to our city of Norfolk, Nebraska. Our dream is that as we momentarily lay down some of our differences and take up service projects around the city, we can show our community and the world a better way. Will you join us?
A new command I give you: Love one another.
As I have loved you, so you must love one another.
[John 13.34-35 NIV]
SATURDAY, SEPTEMBER 10, 2022
Saturday, September 10th, 2022, will be our fifth annual To Norfolk With Love event. Each year we organize projects all around Norfolk which benefit our city, non-profit organizations, and individuals in need in our community. No matter the volunteer's ability level, we have a project they can volunteer to participate in. Event Day Registration and Check-In begin at 8:00 am, a Send-Off Prayer and Celebration at 8:40, and Project Kick-Off at 9:00. A free shirt is guaranteed for everyone who registers by September 1st.
We are pumped FOR 2022
You saw that right. To Norfolk With Love has partnered with a great local child care center to offer you and your family FREE child care during the event. Visit Northern Hills Child Care Center to learn more about them. Unless you've got a rockstar of a 5-year-old, a three-hour service project isn't too high on their priority list. We get it! For that reason, we have created a great partnership with NHCCC to ensure that care is available for all kids, from infants to children approximately 8 years old. Pre-registration is REQUIRED to secure your kiddos a spot. Age-appropriate care will be provided by Northern Hills trained and caring staff, and you can be assured that they will be in good hands. Drop-off time is 7:45-8:30 and pick-up time is noon-12:30.
Again, registration is required, so please register your child(ren) when you register for the event. Registration is open!

THE AFTER PARTY!!!

Who doesn't love a good party?!?! We have been excited, thrilled, and overjoyed at the end of each of the previous TNWL events, yet we've also felt something was missing. We wanted to hear what work was accomplished; we wanted to hear people share stories; we wanted to be able to celebrate the wonderful ways God's love was shown to our community. And this year we will again! The "After Party" will be from approximately 12-1 and will offer a chance to get hydrated, eat some great food, and hear and share stories over the table. And it's FREE. It will be a great day to serve and celebrate together!
There are multiple ways that you can engage with TNWL. Here are some of the main ways you can join the movement!
PRAY

– Join us as we lift the event up to the Lord in prayer.
SERVE

– No matter your age or physical ability level, we have a project for you. Scroll down at the bottom of this page to register to serve. Everyone who registers by September 1st is guaranteed a free T-Shirt!
LEAD

– One of our greatest needs is for people to step up to the plate and volunteer to become a Project Leader. Project Leaders work directly with the TNWL Leadership Team to help organize the details of their project and then they are present on-site the day of to organize, encourage and see the project through to its completion.
GIVE

– To serve on this scale requires financial support. We have a generous donor who has faithfully supported this event, but would love to see others join in the effort. The more resources we have, the larger the impact we can make for the Kingdom of God.
TELL

– Spread the news of the event! People in our community are hungry to serve. The single biggest obstacle to making this event grow is awareness. Share the information with your friends, family, co-workers and church!
We have taken down the registration page but please show up on serve day to serve with us! We have a spot for you and plenty of work! See you Saturday!
PHYSICALLY ACTIVE PROJECTS
PROJECT FULL

Area Agency on Aging

– Outdoor cleanup / Trim Trees / Clean out gutters
Bright Horizons

– Garden clean out, pull weeds & yard work; Power wash front porch and siding; Paint living room, dining room, toy room and stairwell
Liberty Centre/Clubhouse

–

Outdoor cleanup / Landscaping / New Mulch / Trim Trees
Mosaic

–

Outdoor cleanup / Landscaping
Norfolk Rescue Mission

–

Painting in Hope House (ladies house)
PROJECT FULL

Norfolk Rescue Mission

–

Prepare pans of lasagna to put in the freezer
STATIONARY PROJECTS
PROJECT FULL

The Arc

– Prepare mailers & newsletters, place labels on jars of honey
PROJECT FULL

Norfolk Schools

– Create a "thank you" care package for every teacher and school worker in every school in Norfolk.
Our prayer is simple: God would move in all our hearts and minds and encourage lay people, church leaders, and clergy alike to see the value in loving and serving our city together. There are no requirements, sponsorships, or guidelines to be a participating church, so talk to your leadership or clergy today about the opportunity for your church to participate.
PARTICIPATING CHURCHES


C
hrist the Servant Lutheran Church –
First Baptist Church –
First Christian Church
First Congregational United Church of Christ –
First Presbyterian Church
First United Methodist Church –
Grace Lutheran Church –
Harvest Church
LifePoint Church – Northern Heights Baptist Church –
Renewed Hope Christian Community
Salvation Army –
Victory Road Assembly of God –
Victory Road Evangelical Free Church –
Westridge United Methodist Church
E-Mail us for a downloadable link for this video!
tonorfolk.withlove@gmail.com